Support Your Bin Men & Women At The National Refuse Championships 2019!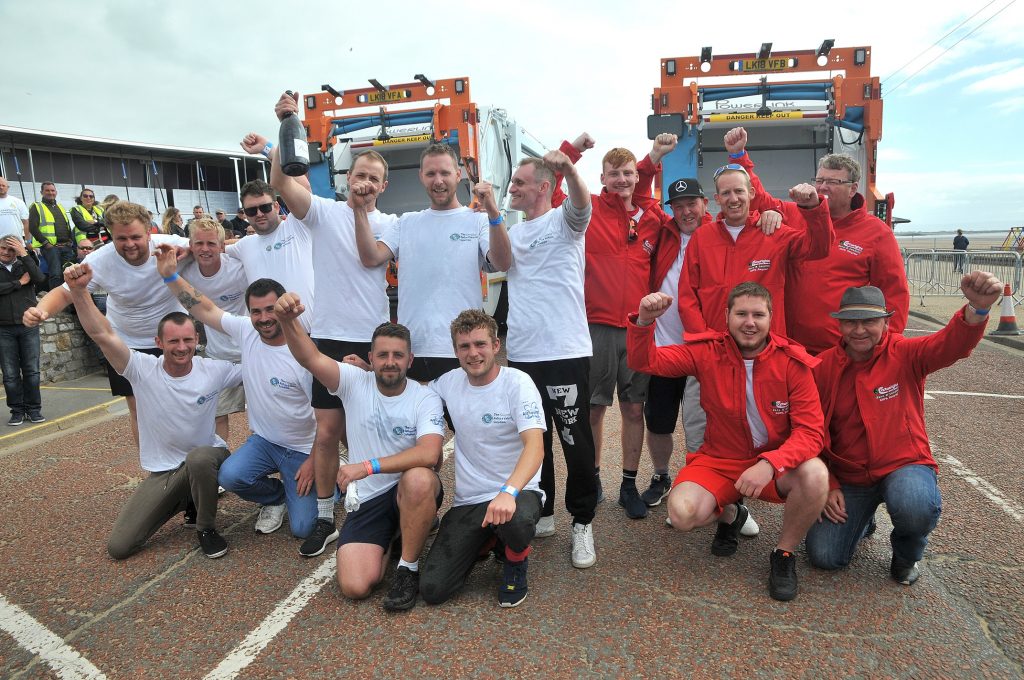 Save the date! The National Refuse Championships is taking place at the Beach Lawns, Weston-super-Mare on Saturday 15 June 2019 9.00am-5.30pm.
This annual event celebrates the bin men and women who collect our recycling and waste, and is in aid of the Alzheimer's Society. Last year the event raised over £21,000 and the target is even higher this year.
A FREE, fun family day out there is something for the whole family with food stalls, live music, Fun Fair rides, a Kids Zone, cider bar and, of course, the races!
Drivers and loaders from all across the UK race against the clock in a test of strength and stamina; loading wheelie bins with sandbags before pushing them 50m into awaiting refuse vehicles.  This gruelling process is repeated numerous times as the trucks move forwards in 50m stages to the finish line. Up to 32 teams will compete, two at a time, in heats throughout the day culminating in a semi-final & final to determine the winner and runners-up.
The winning team will be crowned the National Refuse Champions 2019, presented with a trophy and receive £3000 worth of Center Parcs vouchers.  First place runners up will receive £1250 of Buy-A-Gift vouchers and second place runners up £1000 of Buy-A-Gift vouchers.
Spencer Law is the Founder of the event: "This is the third year that we are running the event in Weston-super-Mare.  The town has been such a great host and we see no reason to go elsewhere. We hope that local people will come along and support the teams, as they have in previous years.   The races are very entertaining, free to watch and it's a family friendly event. We have also laid on additional amusements for the kids, as well as food and drink stalls. Everyone is welcome!"
The reigning champions are Grist Environmental and they will be defending their title this year. Local team, Biffa Weston who were first place runners-up last year are also returning and keen to take the crown.
Laura Hewitt, Regional Community Fundraising Manager at Alzheimer's Society said: "We're absolutely delighted that the organisers have chosen to unite with Alzheimer's Society for the third year running. Last year they raised over £21,000. Every pound raised this year will help Alzheimer's Society provide vital information and support, improve care, fund research and create lasting change for people affected by the condition."
If you're a local business and you'd like to get involved please contact Event Organiser Tracy Standing on Tel: 07772 500 736 or email tracy.standing@rvsl.co.uk.
For more information about the event visit www.nationalrefusechampionships.co.uk
Another way to keep up to date with news about the event is via social media:
Twitter – @refuse champs; Facebook – @NationalRefuseChampionships