National Refuse Championships 2019 Headline Sponsors Announced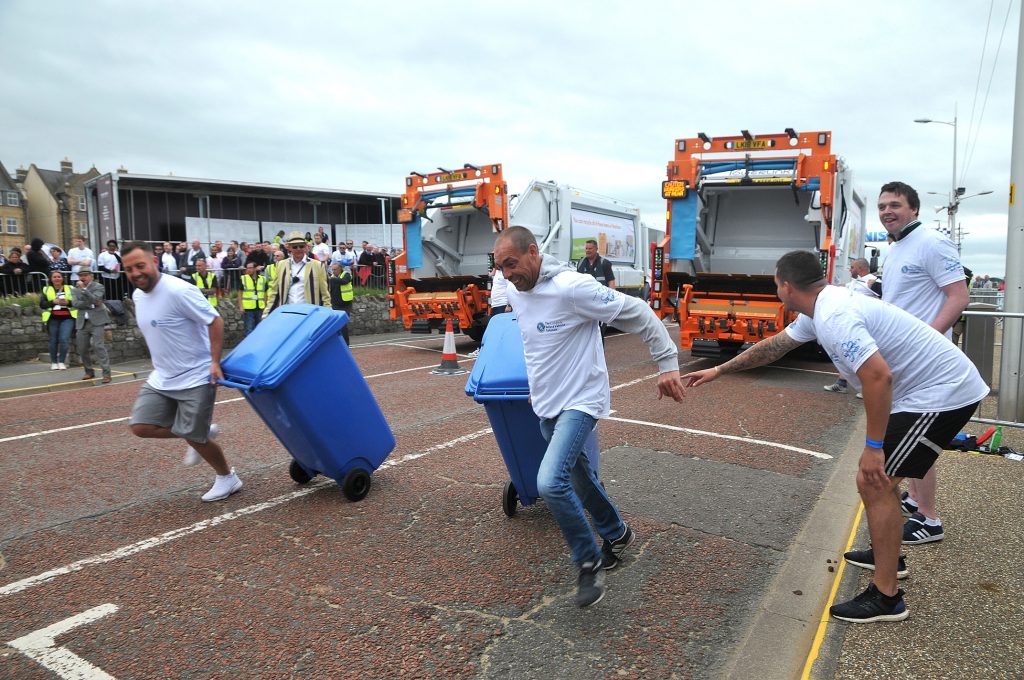 Organisers of The National Refuse Championships 2019 have announced Imperial Commercials and DAF as headline sponsors this year.
The charity event, which takes place on Friday 14 and Saturday 15 June at the Beach Lawns, Weston-super-Mare brings together waste and recycling collection crews from across the UK to take part in a series of gruelling races that test both strength and stamina. In 2018 the event raised over £21,000 for the Alzheimer's Society and the aim is to beat that total this year. Donations can be made at https://www.justgiving.com/fundraising/NationalRefuseChampionships2018
Spencer Law, Founder, The National Refuse Championships said: "We are very grateful to Imperial Commercials and DAF for sponsoring the event. We rely heavily on support from our colleagues in the waste management sector to ensure that we can raise the maximum for the Alzheimer's Society."
Alan Ellison, Commercial Director, Imperial Commercials: "An event that brings people together from the waste sector to share knowledge and talk about good ideas is something that we are pleased to support.  Building on the success of last year's event we are looking forward to what this year holds and the opportunities that come with it.  As one of the only National Commercial Vehicle Dealer groups in the UK, events like the NRC give us an opportunity to network across a wide audience and build long term relationships.  This year we will be displaying a number of our pre built trucks, giving customers the opportunity to take trucks that are ready to work straight away".
David Price, Municipal and Direct Sales Manager: "DAF and Imperial are delighted to be able to support this very popular event which gives everyone an opportunity to have some fun. It is an opportunity to cement relationships with potential, and existing, customers and suppliers in a more relaxed environment"
Up to 32 teams from private waste companies and local authorities across the UK will take part in the races which take place from 9am-5.30pm on Saturday 15 June.  Teams of five will race, two at a time, against the clock to load large wheelie bins with sandbags and push them 50m to empty into awaiting refuse vehicles. This gruelling process is repeated numerous times as the trucks move forwards in 50m stages until they reach the finish line. There are heats throughout the day culminating in a semi-final and final to determine the winners and runners-up.
Members of the public are welcome to attend the event and there are food stalls, a Cider Bar, live music from The Free Spirit Band and a Kids Zone with Fun Fair rides.
Teams signed up so far include last year's winners Grist Environmental and runners up Biffa Weston and Cartwrights, plus Amey, Grundon, Faun, Dennis Eagle, Biffa Municipal, Cawleys, Bristol Waste Company, Devon Contract Waste, Pirtek, VWS, Redditch District Council and Imperial Commercials.
As with last year the winning team will receive £3000 worth of Center Parcs vouchers; first place runners up will receive £1250 of Buy-A-Gift vouchers and second place runners up £1000 of Buy-A-Gift vouchers.
On Friday 14 June the organisers are hosting a DECK day (Demonstrations, Education, Careers and Knowledge), with live product and vehicle demonstrations including bin-weighing, cyclist safety and alternative fuels. Keynote speakers include Cynthia Barlow OBE, Chair of Road Peace, a national charity for road crash victims who is particularly active regarding the dangers of HGVs to cyclists and vulnerable road users.
For more information about NRC 2019 visit www.nationalrefusechampionships.co.uk
Another way to keep up to date with news about the event is via social media:
Twitter – @refuse champs; Facebook – @NationalRefuseChampionships
Any organisations wishing to demonstrate their products or exhibit at the NRC should contact Event Organiser, Tracy Standing on Tel: 07772 500 736; email tracy.standing@rvsl.co.uk.