Competition Heats Up For Waste Sector Charity Event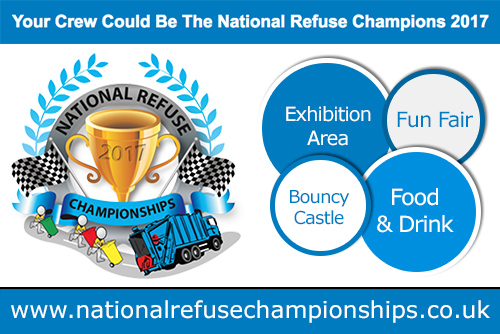 There has been a huge show of support, and competitive spirit, from the waste sector for the National Refuse Championships, due to take place at 10am on Saturday 10 June at Weston-super-Mare seafront to raise money for the Alzheimer's Society.
The competition is open to all independent waste & recycling companies and councils. Over 15 teams have already signed up, including Biffa, Amey, Hills, Devon Contract Waste, Simply Waste, ASL Environmental, Weir Waste, Equinox Recycling and Cartwright Skips. Sponsors, lead by Dennis Eagle, include Epic Media, NTM, Boughton, Gullivers Truck Hire, and Vehicle Weighing Solutions Ltd (VWS).
The event, which promises to be a fun day out for the whole family, includes a small fairground and bouncy castle, as well as food and drink for participants and their friends & families. The day will round off with a fish 'n' chip supper by the sea and live music provided by tribute acts Tom Jones, Elvis and Rod Stewart, plus The Wurzels.
Spencer Law from Refuse Vehicle Solutions Ltd (RVS) decided to revive the event, which used to be known as The World Refuse Championships and was a regular fixture on the waste management calendar until 1995. He said: "We are really pleased by the level of support for the event and we encourage everyone to get involved. It's not too late to enter a team and there are lots of other ways to get involved by sponsoring or taking space in the exhibition area."
The race involves 32 teams of 5 people working in pairs (including one driver) loading large wheelie bins with stones and pushing them 50m to empty into awaiting refuse vehicles. This gruelling process is repeated as the trucks move forward in 50m stages towards the finish line. The race will start with a series of timed heats during the morning culminating in a final race between the two remaining teams in the afternoon.
Members of the public can watch the games from the promenade and seafront.
The winning team will be awarded with the 2017 National Refuse Championship Trophy as well as a weekend away to Center Parcs for the winning team and their immediate families. Second and third place teams will also receive prizes.
For more information about the event visit www.nationalrefusechampionships.co.uk. To enter a team or make a donation contact tracy.standing@rvsl.co.uk or contact Tracy on Tel: 07772 500 736.