Bin Lorry Races Win £20k For Charity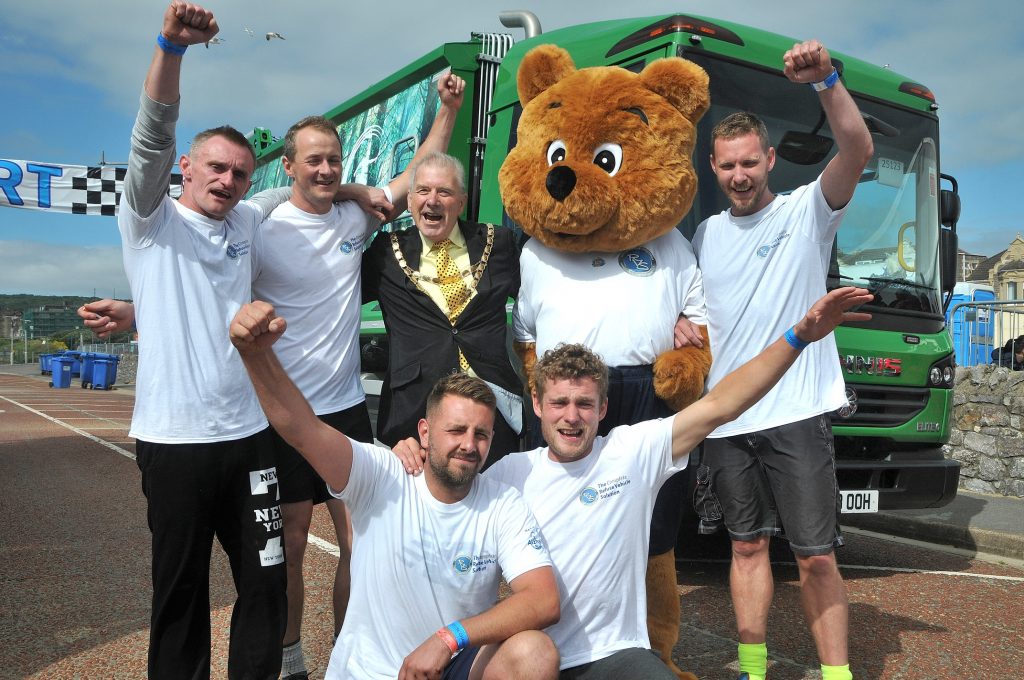 On Saturday 16 June it wasn't donkeys
racing up and down the beachfront at Weston-super-Mare but bin men and women from all across the UK competing in the National Refuse Championships (NRC). Now in its second year the event raised over £20k for The Alzheimer's Society.
Over 2000 people gathered along the Beach Lawns to watch over 30 teams compete in a gruelling race against the clock – repeatedly loading wheelie bins with bags of sand then pulling or pushing them, whilst running, to an awaiting refuse truck and emptying them before the vehicles raced to the finish line.
Teams included Biffa Municipal, Gullivers Truck Hire, Grundon, Simply Waste Solutions, Oxford Direct Services, Amey, Swansea Council, FCS, VWS, Pirtek, Imperial Commercials, Aberdeenshire Council, Cawleys, Viridor, Weir Waste, Hills Waste, WSR Recycling and Devon Contract Waste.
Grist Environmental, a waste management company based in Devizes, Wiltshire were crowned the National Refuse Champions 2018, with local team Biffa (Weston-super-Mare) coming second and Cartwrights Waste Disposal Services taking third place. Each member of the winning team was presented with vouchers towards a Center Parcs holiday, second place team members received £250 worth of Buy-A-Gift Vouchers, and third place team members received £200 worth of Buy-A-Gift Vouchers.
Marcus Grist, Events Director, Grist Environmental and Team Captain/Driver: "We are over the moon to have won the title and the trophy will take pride of place in reception at our head office along with some pictures of the day.  It was brilliant and all the staff are buzzing. People keep congratulating us and the directors of the company, including my father, are very proud. One of the team said that it was his biggest achievement in over 15 years of working with refuse vehicles and I think it's certainly the best team event our company has ever experienced. "
The races were officially opened by Cllr David Jolley, Chairman of North Somerset Council:
"I was delighted to host the National Refuse Championships in Weston-super-Mare for the second year running. You wouldn't expect wheelie bin racing to be so gripping and exciting to watch! I'm pleased our local team got second place – they put in a fantastic effort.  It is such a great family day out and in the process over £20k was raised for The Alzheimer's Society. The event has grown since last year with double the number of teams taking part and a much bigger exhibition. I hope the organisers choose to hold the event here again next year. I shall look forward to it."
Spencer Law, Founder of the NRC and Managing Director, Refuse Vehicle Solutions Ltd (RVS) said of the event: "I'm overwhelmed with how well it went. The feedback has been so positive and it appears news travels fast as we've already had four enquiries from local authorities wishing to enter teams next year!
"We are definitely going ahead with the National Refuse Championships 2019 and will announce a date soon. I'd like to thank everyone who made the event such a success: staff, exhibitors, the teams, sponsors and supporting companies, and of course all those people who turned up to watch. There was a great atmosphere."
The event included an exhibition and seminar programme the day before, on Friday 15 June, with well-known names from the waste management sector taking part including Dennis Eagle, Mercedes, Hyva, DAF, NTM, Boughton, CMS Supatrak, Hills Waste Management, Scarab Sweepers and Epic Media.
A schools outreach programme enabled local primary school children to get involved. They took part in their own 'Recycling Races' and got to see first-hand the latest recycling vehicle technology in action. They all went home with lots of giveaways from exhibitors as mementos of their trip.
Laura Hewitt, Community Fundraiser for Alzheimer's Society said: "We're overwhelmed by the amount of money that has been raised for Alzheimer's Society at the National Refuse Championships this year. I'd like to take this opportunity to thank the organisers, the teams who took park in the races with such competitive spirit, and those that contributed and made a donation on the day. The atmosphere this year was fantastic. It was great to see so many people, including many families, watching the competition unfold. Dementia is set to be the 21st century's biggest killer and affect 1 million by 2021. Events like this help us raise awareness as well as money to find a cure, improve care and offer help and understanding for people affected by dementia."
To make a donation visit  https://www.justgiving.com/fundraising/NationalRefuseChampionships2018
For more information about this or next year's event visit www.nationalrefusechampionships.co.uk or contact the Event Organiser Tracy Standing on Tel: 07772 500 736; email tracy.standing@rvsl.co.uk.