DECK Day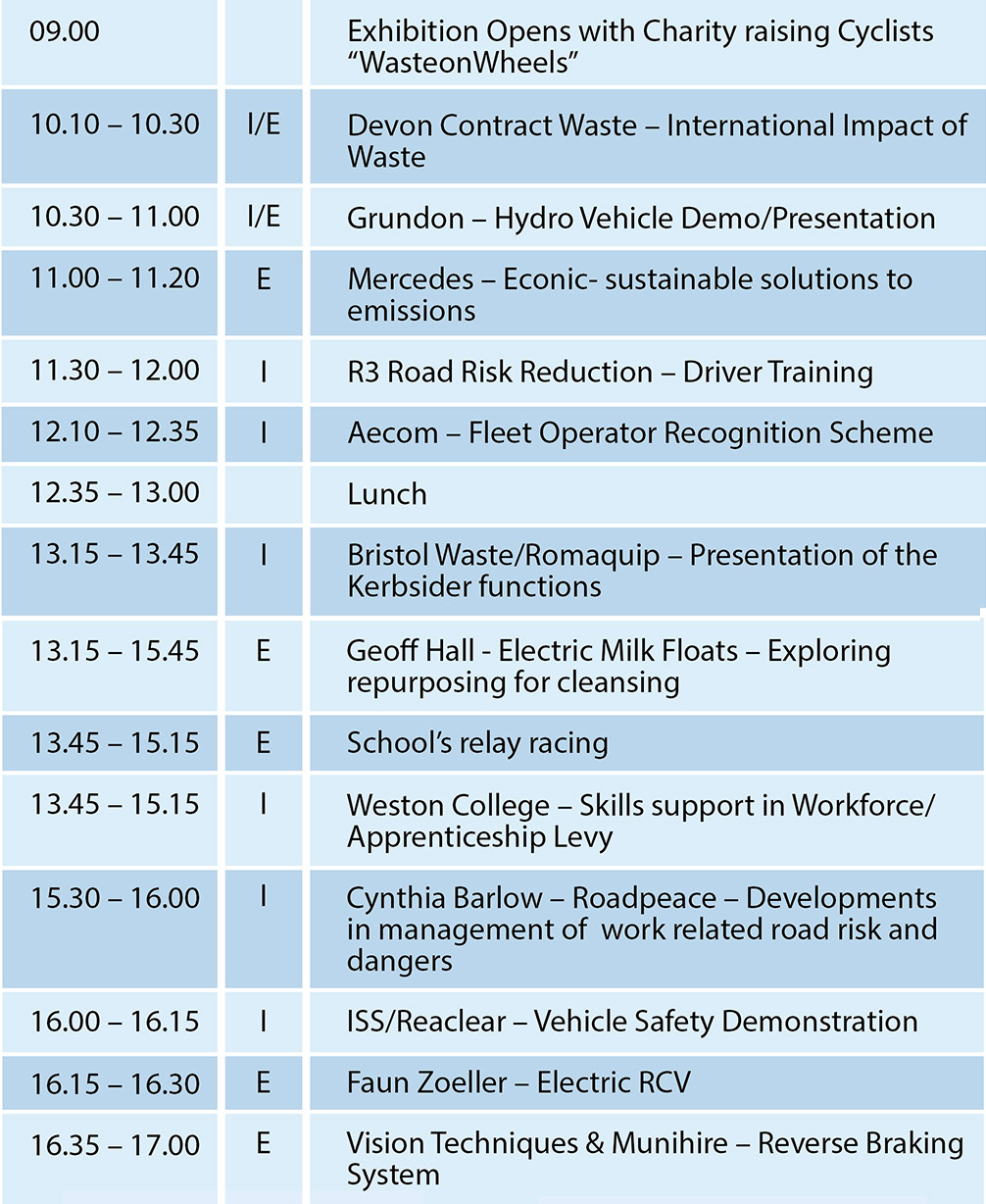 Friday 14th June – DECK day at the National Refuse Championships
Demonstration Education Careers Knowledge
Coupled with the National Refuse Championships race day the organisers of the NRC have innovated an idea to help join up Manufacturers, Waste Collectors, Colleges and Training Companies for a fun packed educational day on the Friday before the Refuse Championships.
Instead of just using the conventional exhibition show ground like many years at Torquay, we are putting together a day where you all can demonstrate your products and services to our visitors in a more show and tell way.
So, if you are a manufacturer or supplier of services to the waste management industry you will have chance to demonstrate your company live at the NRC.
Demonstrations – If you are a manufacturer or supplier of services to the waste industry, you will get the chance to showcase and demonstrate your products and services. You will have the use of the race area to demonstrate your products, your demonstration will be filmed and there will be a live stream across two large digital screens for visitors to see.
Alternatively, there will be an option to demonstrate your products and services from within the event Marquee. You may not have tangible products to bring and show, so this would be a great alternative for you to take time and talk about your services, again your presentation will be filmed and streamed on the big screens for the visitors to see.
We are encouraging as many companies as we can to utilise the day to showcase the company and their products and services. So please consider helping us to help you to create an interesting and exciting day, your products and services are priceless for the operators of our industry. We all need to understand and see your products and services to build an efficient and cost-effective waste and recycling industry.
Education – Is for Waste Collection Companies to take time to present to the other visitors to the event about innovation and recycling initiatives that they may be using to collect and recycle waste. In an ever-increasing demand to divert waste away from landfill, the benefit to share initiatives around the country is priceless.
So, if you think you are an efficient waste collector and you would like to showcase your business and the way it works then we would like to encourage you to come along and share those initiatives to other waste collectors. Whether they are Private waste collectors, or Local Authorities there is sure to be initiatives to be shared and taught to become a more efficient collector and processor of waste.
Careers – Creates an opportunity for school leavers, people who are currently in further education or even people who are looking for a new career to come along and see what working in the waste industry is all about. We are inviting operators to come along and make a pitch to our visitors and showcase what it could be like to work within the waste industry.
There will be time for our visitors to talk with a local college, who will be present to demonstrate the kind of apprenticeships that are available in our industry. In addition, we have a invited a specialist employment agency to the waste sector to come along and talk about career opportunities.
Knowledge – Knowledge is all about training. We have invited a selection of companies to come and talk to our visitors about training, this will be varied between driver awareness, skills training and health and safety training.  Sometimes taken to be the less exciting part about our careers, however very much the important part of our industry. Having the right knowledge in safely delivering the products and services to our market place means that we can all work and sleep easily knowing that our company's deliver a safe service to the people that work in our industry.
More details will be distributed by Tracy as the day develops. In the meantime, if you would like to be involved in the DECK day, if you think you have a product or service that you would like to showcase please contact Tracy Standing on 07772 500736 or tracy.standing@rvsl.co.uk
Highlights include…
Mercedes-Benz & Sustainable Solutions by City West Commercials
The Econic delivers sustainable solutions to the growing emissions burden in urban areas, discover how with City West Commercials.
Driver training from R3 Rockingham
Reduce the risks with hands-on training for all drivers. A new approach
with measurable results, showing achievement and development. Revise driver attitudes, raise awareness and change habits
Reverse safety with ISS
Innovative Safety Systems introduces its latest vehicle safety technology designed to work with drivers and crews.
Waste recycling communications by Bristol Waste Company
Learn how to engage effectively with customers and the public.
Alternative sustainable collection methods
Grundon introduces the latest addition to its fleet – a hydrogen vehicle – and explains how it's possible operate greener without compromising on service delivery.
Pedestrian and cyclist safety
Cynthia Barlow OBE Chair of RoadPeace.